Responsible Gambling at Betwinner
At Betwinner, we prioritize creating a safe and healthy gaming environment. We understand the potential negative consequences of gambling and strive to ensure that you always remain in control of your spending and playing time.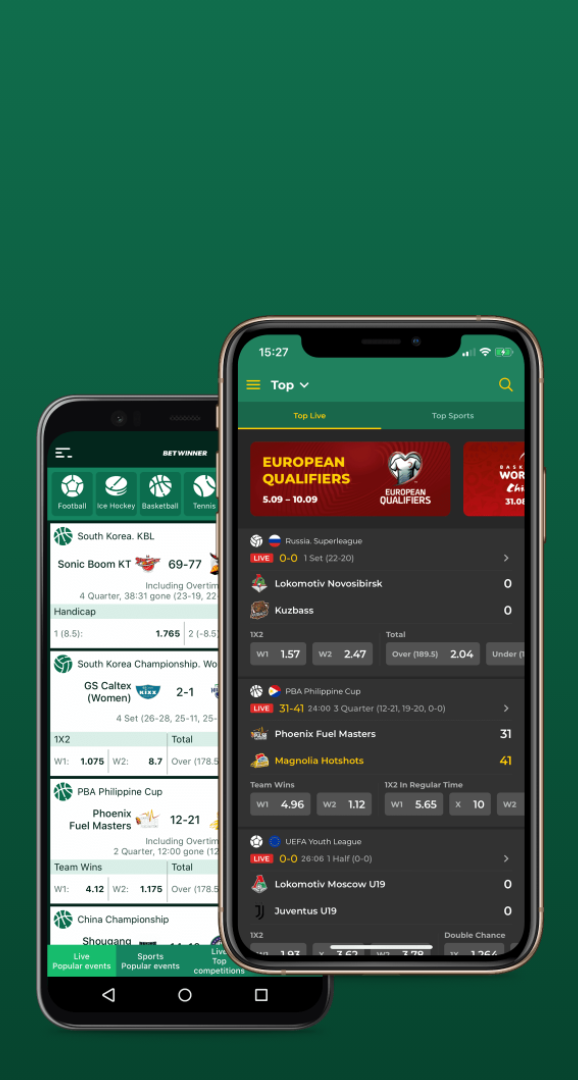 Recreational Gambling and Problem Gambling
Gambling can be recreational when it is primarily a source of entertainment and amusement. However, some individuals may develop a more complex relationship with gambling, leading to problematic behavior. Problem gambling can have adverse effects on their family, social, and professional lives. It may also result in financial difficulties and impact their mental and physical health.
At Betwinner APK, we are committed to detecting and preventing problem gambling while supporting players who may need assistance.
Our Tips for Staying in Control
Here are some simple tips to keep gambling recreational:
Consider gambling as a source of entertainment, not a way to make money.
Set a reasonable budget based on your financial means, taking into account your financial obligations.
Regularly review your gambling history in the "Transaction" tab of your Betwinner account.
Do not chase losses by placing larger bets.
Take regular breaks to maintain a clear mind during gameplay.
Stop gambling if you feel irritable, tired, stressed, or if it negatively affects your mood.
Ensure that gambling does not interfere with your family, social, and professional responsibilities.
Be open and honest with your loved ones about your gambling habits, wins, and losses.
For more information on the impacts of gambling on physical and mental health, housing, work/education, finances, and lifestyle, we encourage you to visit the GamCare page (in English), which offers valuable tools to examine and control your gambling habits.
Recognizing Problem Gambling
It can be challenging to realize when gambling becomes problematic and stops being enjoyable. To help you assess your gambling behavior, you can use Evalujeu, a website that provides personalized evaluation and advice on gambling practices.
Additionally, here are some questions to consider when evaluating your gambling habits:
Do you feel guilty about the amounts you gamble?
Do you need to bet increasingly higher amounts to enjoy gambling?
Are you experiencing financial difficulties due to gambling?
Have you used money that was meant for other purposes to gamble?
Does gambling affect your relationships or professional life?
Have you lost track of time during a gambling session?
Do people around you think you spend too much time gambling?
Are you neglecting your family, social, or professional obligations to gamble?
Do you feel irritable or depressed when gambling or thinking about it?
Do you feel anxious when you cannot gamble?
Are you hiding your gambling habits from your loved ones?
If you answered "YES" to one or more of these questions, you may be experiencing problematic gambling behavior. We encourage you to seek support from professionals who can listen and guide you. Resources for assistance are detailed in the "Get Help" section below.
Getting Help
If you are facing negative impacts from gambling, you are not alone. Talking to someone can make a significant difference in addressing the issue.
The Betwinner customer service team comprises highly qualified personnel who can provide advice on preventing gambling problems.
You can also reach out to various professionals, associations, psychologists, and doctors who offer free support and personalized advice.
Joueurs Info Service: The Joueurs Info Service is available 7 days a week from 8 a.m. to 2 a.m. You can call them at 09 74 75 13 13. You can find more information and advice on gambling issues on their official website: joueurs-info-service.fr.
SOS Joueurs: The experts at SOS Joueurs can be reached at 09 69 39 55 12 to provide assistance and guidance.
Setting Limits
To ensure that gambling remains recreational, it is essential to keep control over your spending and gambling habits. Setting reasonable limits is an effective way to achieve this. You can set and modify your limits at any time on Betwinner. There are four types of limits available:
Bet Limit
Deposit Limit
Automatic Withdrawal Threshold
Poker Time Limit
These limits apply to a consecutive 7-day period and can be adjusted immediately for decreases and after 48 hours for increases.
Self-Exclusion
If you feel that you need a break from gambling, you can choose to self-exclude yourself from Betwinner for a period ranging from 24 hours to 1 year. During the self-exclusion period, your Betwinner account will be inaccessible. We recommend using this time to reflect on your gambling practices and seek professional help, as mentioned in the "Get Help" section above.
Voluntary Self-Exclusion from All Gambling Activities
The voluntary self-exclusion (IVJ) is a national public service managed by the National Gaming Authority (ANJ) that helps you abstain from all forms of gambling in France, including Betwinner. The IVJ lasts a minimum of 3 years. After this period, you must request a lifting of the exclusion.
To initiate the voluntary self-exclusion process, follow these three steps:
Submit your exclusion request on the official ANJ website (interdictiondejeux.anj.fr) or by mail.
The ANJ will contact you by phone to verify your identity.
Once your identity is confirmed, the ANJ will send you a confirmation letter of your voluntary self-exclusion
Please note that the IVJ blocks access to all licensed online gambling sites, including Betwinner, as well as physical casinos and gaming clubs.
False Beliefs
You might have come across advertisements on social media or online platforms claiming to offer "miracle strategies" to "beat bookmakers" or guarantee certain wins for a fee. However, it is essential to understand that gambling is primarily a game of chance. Even if you are an expert in sports, horse racing, or poker, it is impossible to control the outcome of the games and bets offered by Betwinner. Believing otherwise is what we call a false belief.
Prohibition of Gambling by Minors
In France, gambling is prohibited for individuals under 18 years of age. However, over one-third of 12-17-year-olds engage in regular gambling. To address this issue, Betwinner and the e-Enfance/3018 association have launched -18ans, pour eux c'est pas du jeu (www.pasdujeu.fr), providing resources and tools for parents to prevent underage gambling and practical advice for discussing the topic with their children.
Despite all the precautions taken, minors may attempt to circumvent this prohibition. It is the responsibility of everyone not to introduce minors to gambling.
There are various tools available to ensure that minors cannot access gambling activities. Apple and Google provide tools to automatically block certain websites and applications. Additionally, effective parental control software can block minors from accessing certain websites. Examples of such software include:
Kaspersky Safekids
Norton Family
Parents dans les parages
Helping a Loved One
If you believe that one of your loved ones may have a gambling problem, remember that you are not alone in facing this sensitive situation. Feel free to contact the experts mentioned in the "Get Help" section above. These specialized organizations can listen, understand, and provide advice on the best approach to help and support your loved one.